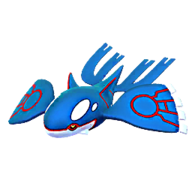 🥊 Personalized Kyogre Counters
📊Kyogre Raid Infographic
Kyogre– Sea Basin Pokémon
Kyogre is weak to the following types:

x1 Electric,

x1 Grass Generally speaking, the best counters for it are:Zekrom, Raikou and Electivire. Kyogre can be beaten by 2 players in optimal weather, with max friendship and perfect level 40 counters or by 5 unfriended players using level 20 counters from this guide. When caught, Kyogre will be between 2260 and 2351 cp without a weather boost. In Rainy weather, Kyogre will be between 2825 and 2939 when caught.
Raid Meta – Waterfall / Surf
Kyogre is the best water type attacker in the game with Surf. The only exception is when duel typing gives some kind of an advantage. The most notable example of this is Gyarados having overall better survivability against Ground Type attacks-but still falling behind Kyogre in raw damage. Palkia also pulls ahead when it's Dragon-Type gives resistances. Even so, even at level 20 Kyogre can outclass a plethora of competition water types. Heck, without even using it's charge move it has higher DPS than Vaporeon. If you want the best water type that a raid pass can buy, Kyogre is the Orca to go for.
PVP Meta – Waterfall / Surf + Blizzard + Thunder
Best in Master League, where it takes on Groudon and Metagross. Coverage move varies, Blizzard is better against Dragons, Thunder is better against other Kyogre.
There are a couple classes of unique pokemon that are more difficult to use than others, they have been filtered out here to not clog up the counters too much. These pokemon are much more resource expensive than other options.
 • Shadow Raikou– Best in General simulations.
 • Mega Venusaur– Great in General simulations.
 • Shadow Electivire– Great in General simulations.
 • Shadow Magnezone– Great in General simulations.
 • Shadow Mewtwo– Great in General simulations.
Less relavant Shadow and Mega Pokemon:Mega Ampharos, Shadow Venusaur, Shadow Zapdos, Shadow Victreebel
Sorted Easiest to Hardest.
Blizzard:
  •

Grass-Types
are hit for 💥 Weakness
Hydro Pump:
  •

Grass-Types
are hit for 🛡️ Resistance
Surf:
  •

Grass-Types
are hit for 🛡️ Resistance
Thunder:
  •

Grass-Types
are hit for 🛡️ Resistance
  •

Electric-Types
are hit for 🛡️ Resistance
Here is a list of Pokemon that can perform similar or better than the typical #1 option (in this case, Zekrom) with weather bonuses:
| Pokemon | Weather | Fast Move | Charge Move | Estimator |
| --- | --- | --- | --- | --- |
| Zekrom | ☔️Rainy | Charge Beam | Wild Charge | 1.9 |
| Raikou | ☔️Rainy | Thunder Shock | Wild Charge | 2.2 |
#1 Zekrom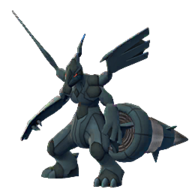 Charge Beam

Wild Charge
With Level 35 Zekrom you need 3 players.

Best Estimator VS: Waterfall / Blizzard
Best Ranking VS: Waterfall / Blizzard
Type Interactions:
• 2× Resists: Electric
• 1× Resists: Water
• 1× Weak: Ice
#2 Raikou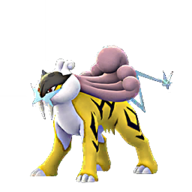 Thunder Shock

Wild Charge
Raikou was available during its Raid Day, so its actually very likely you are holding onto one right now. That said, it is a legendary pokemon, which are expensive to get candy for. its a top tier Electric-Type, and a decent Ghost-Type! With Level 35 Raikou you need 3 players.

Alternative Fast Moves: Volt Switch
Alternative Charge Moves: Thunderbolt
Best Estimator VS: Waterfall / Hydro Pump
Best Ranking VS: Waterfall / Blizzard
Type Interactions:
• 1× Resists: Electric
#3 Electivire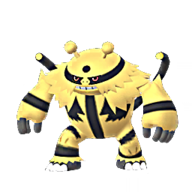 Thunder Shock

Wild Charge
Electabuzz is available from "Use a Super Effective Charged attack in 7 Gym battles" quests, and does nest, but hasn't been featured much in events. You also need a Sinnoh Stone to evolve, which can be acquired at random from trainer battles. Electabuzz currently can be found in nests. With Level 35 Electivire you need 3 players.

Best Estimator VS: Waterfall / Hydro Pump
Best Ranking VS: Waterfall / Blizzard
Type Interactions:
• 1× Resists: Electric
#4 Roserade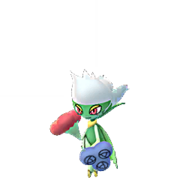 Razor Leaf

Grass Knot
Roserade evolves from Roselia, a very accessible pokemon in the most common biomes. Roserade requires a Sinnoh Stone to evolve, which can be acquired (at random) after your first Trainer Battle each day. Roselia candy shouldn't be too tough to get and they can often be found weather boosted during the common Sunny and Cloudy weathers. With Level 35 Roserade you need 4 players.

Alternative Fast Moves: Bullet Seed
Alternative Charge Moves: Solar Beam
Best Estimator VS: Waterfall / Blizzard
Best Ranking VS: Waterfall / Surf
Type Interactions:
• 1× Resists: Electric, Water
• 1× Weak: Ice
#5 Zapdos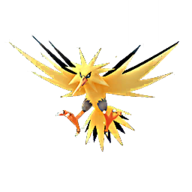 Thunder Shock

Thunderbolt
Zapdos is a legendary Pokemon so not that easy to acquire, but has been featured as a 7 Day Field Research reward, and has gotten a Legendary Raid Day as well. Thunder Shock however is legacy, from July 2018. With Level 35 Zapdos you need 4 players.

Alternative Fast Moves: Charge Beam
Best Estimator VS: Waterfall / Blizzard
Best Ranking VS: Waterfall / Hydro Pump
Type Interactions:
• 1× Weak: Ice
• Negated Interaction: Electric
#6 Magnezone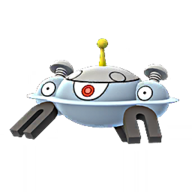 Spark

Wild Charge
Magnezone evolves from the Magnemite family, which is a nesting species that has been in raids in the past. It requires Magneton evolving into Magnezone underneath a Magnetic Lure Modules however- which can be purchased from the shop for 200 coins. These Lure Modules also have a chance to spawn Magnemite if you can't find any around. Magnemite currently can be found in nests. With Level 35 Magnezone you need 4 players.

Alternative Fast Moves: Charge Beam
Best Estimator VS: Waterfall / Hydro Pump
Best Ranking VS: Waterfall / Blizzard
Type Interactions:
• 1× Resists: Ice, Electric
#7 Tangrowth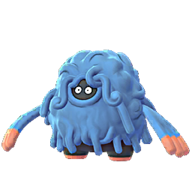 Vine Whip

Power Whip
With Level 35 Tangrowth you need 4 players.

Alternative Charge Moves: Solar Beam
Best Estimator VS: Waterfall / Blizzard
Best Ranking VS: Waterfall / Hydro Pump
Type Interactions:
• 1× Resists: Electric, Water
• 1× Weak: Ice
#8 Sceptile

Bullet Seed

Frenzy Plant
Sceptile's community day was in March (2019). Treecko currently can be found in nests. With Level 35 Sceptile you need 4 players.

Alternative Fast Moves: Fury Cutter
Alternative Charge Moves: Leaf Blade
Best Estimator VS: Waterfall / Hydro Pump
Best Ranking VS: Waterfall / Thunder
Type Interactions:
• 1× Resists: Electric, Water
• 1× Weak: Ice
#9 Luxray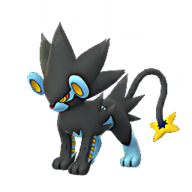 Spark

Wild Charge
Luxray evolves from Shinx, which is a raid exclusive Pokemon; and always acquired at level 20 (or 25 if caught during rain). This makes it quite the pain to evolve. Even if you pinap every Shinx, it will still take 17 raids just to get enough base candy to Evolve it. Shinx raids have become a staple however and are pretty reliably around, and are Tier 1 raids that anyone can do. Shinx as a Buddy finds a candy every 5km, which is better than legendary Pokemon but still not great. With Level 35 Luxray you need 4 players.

Alternative Fast Moves: Hidden Power Grass, Snarl, Hidden Power Electric
Best Estimator VS: Waterfall / Hydro Pump
Best Ranking VS: Waterfall / Blizzard
Type Interactions:
• 1× Resists: Electric
#10 Venusaur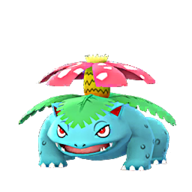 Vine Whip

Frenzy Plant
Venusaur's community day was back in March (…2018), which is quite awhile ago at this point. It also returned in December 2018 for the end of the year community day event. Bulbasaur currently can be found in nests. With Level 35 Venusaur you need 4 players.

Alternative Fast Moves: Razor Leaf
Best Estimator VS: Waterfall / Blizzard
Best Ranking VS: Waterfall / Surf
Type Interactions:
• 1× Resists: Electric, Water
• 1× Weak: Ice
#11 Torterra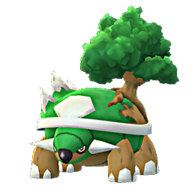 Razor Leaf

Frenzy Plant
Turtwig community day was September 2019. You can't get Frenzy Plant Torterra outside of that event. Turtwigs are decently common Pokemon, and you can also acquire one from the "Jump Start" Special Research, Part 4/6. Turtwig currently can be found in nests. With Level 35 Torterra you need 4 players.

Best Estimator VS: Waterfall / Hydro Pump
Best Ranking VS: Waterfall / Hydro Pump
Type Interactions:
• 3× Resists: Electric
• 2× Weak: Ice
• Negated Interaction: Water
#12 Mewtwo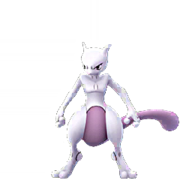 Confusion

Thunderbolt
With Level 35 Mewtwo you need 4 players.

Alternative Fast Moves: Psycho Cut
Alternative Charge Moves: Psystrike
Best Estimator VS: Waterfall / Hydro Pump
Best Ranking VS: Waterfall / Blizzard
Type Interactions:
• No Type Interactions
#13 Simisage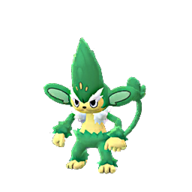 Vine Whip

Grass Knot
Simisage is a new pokemon, Region-Locked to the Asia-Australia region. With Level 35 Simisage you need 4 players.

Alternative Charge Moves: Solar Beam
Best Estimator VS: Waterfall / Hydro Pump
Best Ranking VS: Waterfall / Surf
Type Interactions:
• 1× Resists: Electric, Water
• 1× Weak: Ice
#14 Breloom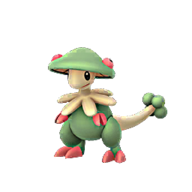 Bullet Seed

Grass Knot
Shroomish currently can be found in nests. With Level 35 Breloom you need 4 players.

Alternative Fast Moves: Counter
Best Estimator VS: Waterfall / Surf
Best Ranking VS: Waterfall / Hydro Pump
Type Interactions:
• 1× Resists: Electric, Water
• 1× Weak: Ice
#15 Leafeon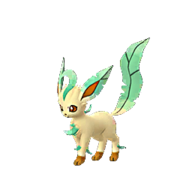 Razor Leaf

Leaf Blade
Leafeon evolves from Eevee, which is a nesting species, who has also been featured in community day, AND in many many events. Eevee is also just a decently common Pokemon in general, with even increased spawns in Partly Cloudy weather which is fairly common. If all else fails, you can acquire a shiny Eevee from the "Jump Start" Special Research quest part 4/6. Eevee is also a quest reward for the "Evolve a Pokemon" Field Research quests. "A Ripple in Time" Special Research also rewards a normal Eevee in both part 3 and part 4. After acquiring enough Eevee candy, Leafeon can be acquired in one of two ways: Either, you get a Mossy Lure Module and evolve Eevee while within its boundaries, or you use a ONE TIME USE naming trick, naming your Eevee "Linnea" prior to evolving. Leafeon do not spawn in the wild ever. Eevee currently can be found in nests. With Level 35 Leafeon you need 4 players.

Alternative Charge Moves: Solar Beam
Best Estimator VS: Waterfall / Blizzard
Best Ranking VS: Waterfall / Surf
Type Interactions:
• 1× Resists: Electric, Water
• 1× Weak: Ice
#16 Regigigas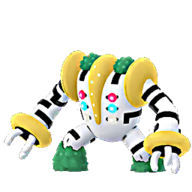 Hidden Power Grass

Giga Impact
With Level 35 Regigigas you need 4 players.

Alternative Fast Moves: Hidden Power Electric
Alternative Charge Moves: Thunder
Best Estimator VS: Waterfall / Blizzard
Best Ranking VS: Waterfall / Blizzard
Type Interactions:
• No Type Interactions
#17 Chesnaught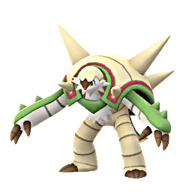 Vine Whip

Solar Beam
With Level 35 Chesnaught you need 4 players.

Best Estimator VS: Waterfall / Blizzard
Best Ranking VS: Waterfall / Hydro Pump
Type Interactions:
• 1× Resists: Electric, Water
• 1× Weak: Ice
#18 Victreebel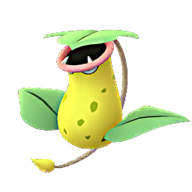 Razor Leaf

Leaf Blade
Victreebel evolves from Bellsprout which is a decently common Pokemon. They also spawn from Mossy Lure Modules. The "Use 5 Berries to help catch Pokemon" Quest rewards a Weepinbell. With Level 35 Victreebel you need 4 players.

Alternative Charge Moves: Solar Beam
Best Estimator VS: Waterfall / Hydro Pump
Best Ranking VS: Waterfall / Hydro Pump
Type Interactions:
• 1× Resists: Electric, Water
• 1× Weak: Ice
#19 Leavanny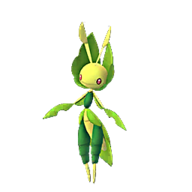 Razor Leaf

Leaf Blade
With Level 35 Leavanny you need 4 players.

Best Estimator VS: Waterfall / Hydro Pump
Best Ranking VS: Waterfall / Thunder
Type Interactions:
• 1× Resists: Electric, Water
• 1× Weak: Ice
#20 Jolteon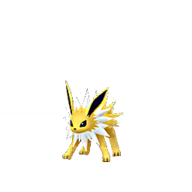 Thunder Shock

Thunderbolt
Jolteon evolves from Eevee, which is a nesting species, who has also been featured in community day, AND in many many events. Eevee is also just a decently common Pokemon in general, with even increased spawns in Partly Cloudy weather which is fairly common. If all else fails, you can acquire a shiny Eevee from the "Jump Start" Special Research quest part 4/6. Eevee is also a quest reward for the "Evolve a Pokemon" Field Research quests. "A Ripple in Time" Special Research also rewards a normal Eevee in both part 3 and part 4. After acquiring enough Eevee candy, Jolteon can be acquired in one of two ways: Either, you evolve normally and have a 1/3 chance to get a Jolteon, or you use a ONE TIME USE naming trick, naming your Eevee "Sparky" prior to evolving. Eevee currently can be found in nests. With Level 35 Jolteon you need 4 players.

Alternative Fast Moves: Volt Switch
Alternative Charge Moves: Discharge
Best Estimator VS: Waterfall / Surf
Best Ranking VS: Waterfall / Blizzard
Type Interactions:
• 1× Resists: Electric
#21 Thundurus

Thunder Shock

Thunder Punch
With Level 35 Thundurus you need 4 players.

Alternative Charge Moves: Thunder
Best Estimator VS: Waterfall / Hydro Pump
Best Ranking VS: Waterfall / Thunder
Type Interactions:
• 1× Weak: Ice
• Negated Interaction: Electric
#22 Shiftry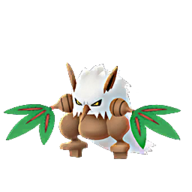 Razor Leaf

Leaf Blade
Seedot currently can be found in nests. With Level 35 Shiftry you need 4 players.

Alternative Fast Moves: Snarl, Bullet Seed
Best Estimator VS: Waterfall / Hydro Pump
Best Ranking VS: Waterfall / Hydro Pump
Type Interactions:
• 1× Resists: Electric, Water
• 1× Weak: Ice
#23 Meganium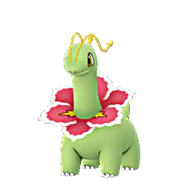 Vine Whip

Frenzy Plant
Chikorita currently can be found in nests. With Level 35 Meganium you need 4 players.

Alternative Fast Moves: Razor Leaf
Alternative Charge Moves: Solar Beam
Best Estimator VS: Waterfall / Blizzard
Best Ranking VS: Waterfall / Blizzard
Type Interactions:
• 1× Resists: Electric, Water
• 1× Weak: Ice